Camp Fish Tales is seeking a Program Lead for the Summer of 2022.
June 5th-August 19th.
CFT is an outdoor camp for kids and adults with special needs. Applicants must be 18 years of age. Must complete all training provided by CFT. Training dates: May 31st-June 3rd. Must be enthusiastic, dependable, have professional conduct, and maintain confidentiality when needed. Will create and implement activities that allows the campers to reach their highest practical level of physical and social well-being. Will accommodate activities for all campers needs. Will help direct all camp functions and activities. Activities included but not limited to: boating, swimming, fishing, hiking, talent shows, art n crafts, bike night, a weekly dance, bonfires and skits. The Program Lead will also assist counselors when needed.
---
---
---
---
Executive Director
Shannon Forshee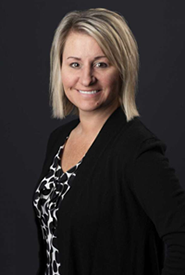 Shannon is the executive director of Camp Fish Tales. She received her Bachelor of Science in Special Education and Psychology in April 1998 from Grand Valley State University and her Masters of Education in April 2002 from Saginaw Valley State University. Shannon was a special education teacher in the Bullock Creek School District from 1998 until 2007.
Shannon has been a volunteer with many regional charity organizations such as Camp Fish Tales and Make-A-Wish. She resides in Midland, Michigan with her husband and their three children.
Camp Nurse
Carol Wieszczecinski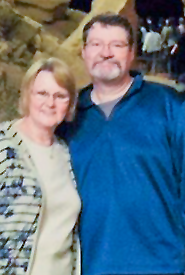 Hello. I am Carol Wieszczecinski, one of the Camp Nurses this summer. This will be my second summer at Camp Fish Tales. I have worked some of the respite weekends also. It has been my privilege to work at the camp. Being the Camp Nurse has been one of my most challenging, rewarding and humbling roles. Helping our campers have fun, make friends and try new things is amazing. The camp motto of "Catch the Spirit, Release the Potential" occurs every day and all week. I have had a variety of nursing experiences in my career. I have worked for the past two and a half years as a school nurse. Prior to that, I worked in the hospital setting as a bedside caregiver, case manager, staff/nursing student educator and a quality specialist. On a personal note, the man in the picture is my husband Tom. My family also includes my step-daughter Katie, her husband Keith and their three adorable girls-Evelyn, Clara and Juliet, our daughter Elyse and son Daniel.  I am looking forward to seeing you at camp this summer, keeping you healthy and having fun.
Camp Director
Tim Rinner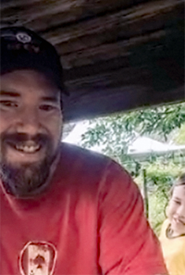 My name is Tim Rinner. I am ecstatic to be this years Camp Director! Camp life has always been a special part of my life. My older brother is disabled and over the years I have been part of his life and well-being. Growing up my goal was to always include my brother and his friends in any activity they wished to try. I've been involved with camps since my teenage years. My heart has always been with the disabled community and their families and friends. I am a father of three and enjoy sharing with them the outdoors and all it has to offer. I look forward to meeting everyone this camp season and being part of the campers favorite camp memories.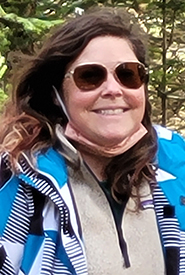 Ashley Ayala
Hi! My name is Ashley Ayala, this seasons Camp Director. I have a passion for helping youth aspire to be the best they can be and love being outdoors. I grew up going to camp and it holds a special place in my heart. I love the smell of campfires and singing songs around them. I have previously worked with homeless youth and look forward to the rewarding work that comes with working with kids and adults with special needs. I am a married, dog mom of two amazing standard poodles who love going on hikes and being outdoors as much as me. I cannot wait to meet everyone and make this summer the best for all. 
Camp Nurse
Kendall Felt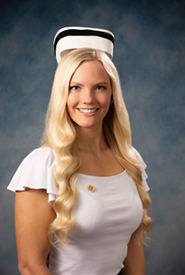 Hi! My name is Kendall Felt and I am 22 years old. I graduated at the age of 20 with my nursing degree, and I can't picture myself doing anything different. After a fast-paced year due to COVID-19, I am excited to spend my summer at camp. Outside of work I enjoy hiking, traveling, and lifting weights. I have four siblings that keep me on my toes. I can't wait to spend my summer at Camp Fish Tales!
Maintenance Supervisor
Ken MacConnell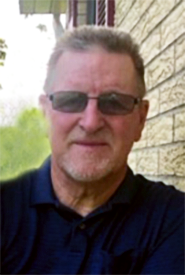 Ken MacConnell is our maintenance supervisor at Camp Fish Tales. He was born and raised on a dairy farm in Alpena. He moved to Kawkawlin in 1973. He retired from General Motors in 2009. He is a Vietnam Veteran and retired from the Army National Guard in 2005. He is the Trustee for Kawkawlin Township. He volunteers for Habitat for Humanity, United Way, Carriage House and Heartland Hospice for Veterans. He has 4 children, 10 grandchildren and resides at home with his wife, Sue.
2022  Camp Counselors Wanted
Camp Fish Tales is looking for responsible, caring and enthusiastic individuals to join our Summer 2022 Camp Team (June 5th-August 19th)! Camp Counselors (18 and older), will be working with campers (adults and children) with special needs to help them experience a safe, growing, and fun outdoor camp experience. We hold 10 week long sessions with week of 7-24-22 off. Campers participate in rock wall climbing, archery, boating, fishing, talents shows, a weekly dance and biker night!
Camp counselors stay at camp during the week, have free room and board, amazing meals, and their weekends off. They also receive training certificates in first aid/CPR. The dates of training are May 31, 2022 to June 3, 2022. This translates into all professions, look amazing on a resume all while making a huge difference in the lives of children and adults with disabilities.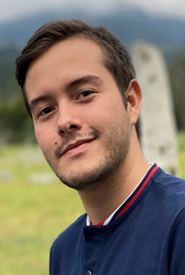 Victor Llanos
Victor is coming to CFT all the way from Columbia! He will be a camp counselor for the Summer of 2021! Welcome!
Hi! my name is Victor Llanos, I'm from Colombia, I'm 21 years old and I'm a hotel and tourism student. I am very sociable, I love meeting new people and offering many positive things to those around me. I practice tennis and cycling. I look forward to being part of the Camp Fish Tales staff. Counting the days to be there!!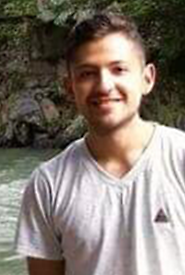 José María Arciénega
Hi! My name is José María Arciénega. I am 22 years old, I'm from Bolivia and I am a medicine student. I love to help people and also enjoy camping. I like to draw and play soccer. I'm looking forward to being at Camp Fish Tales for the Summer of 2021!!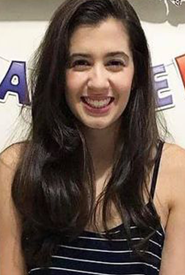 Larissa
Welcome to our newly hired counselor for the Summer of 2021. Larissa will be traveling to the USA all the way from Brazil. We are so excited to meet you in June!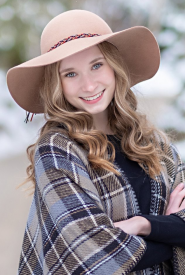 Marissa Carroll
Hi! My name is Marisa Carroll and I am so excited to have the opportunity to be a counselor at Camp Fish Tales. I am currently working towards a degree in Special Education. I love the outdoors, traveling, helping people, and going to the gym. I cannot wait to spend the entire summer at camp!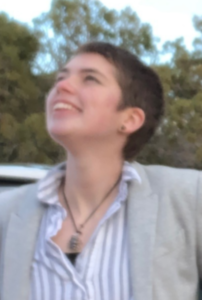 Alison Standish
Hi! My name is Alison but you can also call me Aj. I am a 19-year-old college student whose
passions include: poetry, the outdoors, music, and all things arts and crafts! I am so excited to be a part of Camp Fish Tales and share the things that bring me joy with others.
I'm originally from the Chicagoland area of Illinois, but I've spent the last few years of my life in Grand Junction, CO pursuing my English degree. When I'm not reading or writing poetry or making music, you can find me doing my best to experience the great outdoors to the absolute fullest.
Camilla Fresco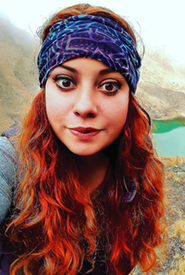 Hi my name is Camila Fresco. I am a business student from Bolivia. I am very excited to be part of Camp Fish Tales.
I love hiking, archery, and rock climbing. My other hobbies include reading and drawing.  I am always looking forward to learning new things.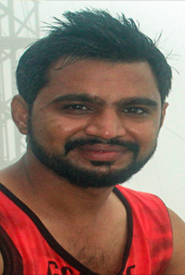 Mehul
My name is Mehul. I am from India and I am a Mechanical Design Engineer. I have curiosity to know new things and am fond of adventure. I enjoy exploring new places, different cultures and being surrounded by people. Camp Fish Tales is a wonderful opportunity and I'm looking forward to it!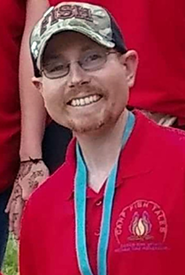 Ryan Bauman
Hi! My name is Ryan Bauman. I have been a Counselor for Camp Fish Tales since 2019. I am so excited about being a counselor for 2021 at Camp Fish Tales. I have an Associates Degree in Child Development and in Fine Arts. I developed a passion for helping people at a young age when I had cancer and then heart failure later in life. I use that passion and compassion with each camper at Camp Fish Tales. With each camper, I enjoy helping them develop and express their  unique skills and abilities through all the activities that we participate in at Camp Fish Tales.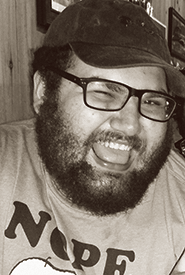 Emmanuel Juarez
Hello! My name is Emmanuel Juarez, but you can call me Manny. Some of you may recognize me from past summers due to the fact this will be my 5th year working at camp. To better assist the needs of campers I have attended all camp sanctioned training days as well as additional Nurse's Assistant training in the off season. I enjoy gaming, both analog and video varieties, spending time with friends, writing short stories and learning new things about myself, the world, and others. I look forward to another productive and exciting year at camp!
President
Corinne M. Provoast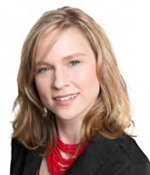 Corinne is the newest member of the Camp Fish Tales family, having joined the board of directors in February 2017. She is a staunch champion for the rights of childhood, regardless of ability and age. A professional working in the insurance business since 2001, she currently specializes in health insurance packages aligned to the need and budget of her clients.
Corinne is active in regional community programs ranging from Jaycees, Mothers of Preschoolers, the GLBR Heart Walk and Zonta. Corinne, with husband Tom and children, reside in Midland, Michigan.
Vice President
Karl Ieuter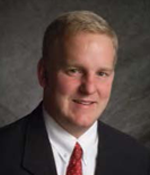 Karl is the owner of Ieuter Insurance Group in Midland, Michigan. Karl lives in Sanford, Michigan with his wife Julie, and their three daughters. He is very involved in the nonprofit community helping serve on many nonprofit boards including the Children's Trust Fund Board, Reece Endeavor, Midland Chamber, and his Church's board. He has been honored as United Way's Young Leader of the Year, Junior Achievement, Rising Star, and Leadership Midland's, Leader of the Year.
Treasurer

John McClelland III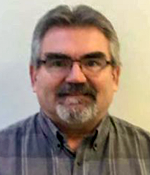 John is the Chief Financial Officer of the Arnold Center, Inc. of Midland. He has been involved with non-profit agencies in varying roles for over 35 years. He has also been involved in many volunteer activities in the community, including being a Scoutmaster, High School Varsity Coach, and managing a youth bowling league.
John lives in Midland, Michigan with his wife Jacqui, and their twin sons, Jacob and Joshua. He joined the Camp Fish Tales board in 2017.
Secretary
Lynn Frederick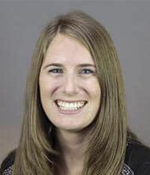 Lynn is a native of the Saginaw area and is the newest member of the board, joining in May 2017. She graduated from SVSU in 2011 where she went on to work in Orlando, FL for Walt Disney World and Marriott Vacations Worldwide. She currently works for her family business, Champagne & Marx Excavating Inc in Saginaw. Champagne & Marx has been a supporter of Camp Fish Tales for more than 20 years which is how Lynn came to be involved.
Mike Christensen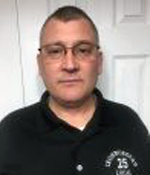 Mike is co-Chairman on the Building Committee at Camp Fish Tales. He is an active member of the 3rd degree Knights of Columbus in Essexville. He is involved in the United Way of Saginaw where he assists with ramp building projects for the home-bound. Mike also volunteers for Habitat for Humanity on various projects, has coached youth wrestling for ten years, and continues to participate and/or lead various fundraisers.
Mike has held a variety of construction jobs through Iron Workers Local 25 where he became a Journeyman Iron Worker. He has worked on a variety of construction projects including nuclear power plants, the Big 3 (GM, Chrysler, Ford) and multi-story construction projects. Since 2013, Mike has been the Iron Worker Local 25 Upstate Business Agent. In addition, he is currently the Vice President of the Northern Building Trades and a Trustee on the Tri-County Building Trades.
Mike was born in Bay City and raised in Essexville and comes from a large Catholic family of 12 children. He enjoys spending time with his family and is happily married to his wife Jennifer of 23 years and they have three children together. Mike graduated from Garber High School and attended Delta College. Mike is an avid hunter, fisherman, and trapper and truly enjoys the outdoors!
Shane Forfar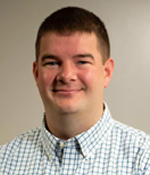 Shane Forfar is from Owosso, Michigan and currently resides in Midland with his wife and daughter. Shane works for Greater Midland Community Center where he is a Program Manager and Summer Camp Director. Shane joined the Camp Fish Tales Board in 2019 and currently sits on the Marketing/Fundraising and Board Governance Committees. Shane has worked for non-profits since he was 16 years old with the YMCA, City Parks and Recreation and Greater Midland.
Kristie Clark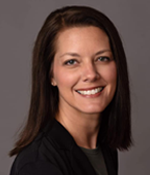 Kristie Clark has been actively involved in the Great Lakes Bay Region since moving to the area in 1994 to attend Central Michigan University, where she went on to earn her Bachelor of Science in Elementary Education and Master of Arts in Counseling. Kristie's passion for helping children and families has been put on full display during her twenty years as an Elementary Teacher and School Counselor for Bullock Creek School District. While there, she has introduced and facilitated several programs focused on the development of children, parents and staff, including Love and Logic, school-based Play Therapy and Positive Behavior Intervention and Supports. Her involvement and impact extends beyond the school setting. She served on the Board of Safe and Sound Child Advocacy Center in Midland for eight years, including two years as Board Chair. She is a 2014 graduate of Leadership Midland. She volunteered many hours coordinating Sharing Tree for children and families of Bullock Creek. Kristie resides in Freeland with her husband and their two children. Kristie is honored to be on the Camp Fish Tales Board of Directors and looks forward to continuing her support of the Camp. 
Mallory Herbert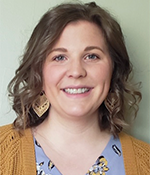 I was born and raised in Bay City, MI. I attended Michigan State University where I obtained my Bachelors of Science in Environmental Economics and Policies. Currently I work for Trinseo in Midland as a Supply Chain Planner. I was involved in volunteer activities at the camp in college. I also worked in Pinconning for the last 3 years and recognize the potential for local businesses in that community to get involved with the camp.
Carolyn Dery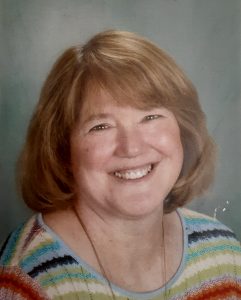 Hi! I'm Carolyn (Carrie) Dery and I joined the board of directors for Camp Fish Tales in 2020. After retiring from Livonia Public Schools  as a Special Education teacher in 2016, my husband Joe and I moved to Pinconning.  Our adult son, Scott, who has autism and a seizure disorder,  lives with us and we all enjoy the small town life. Scott began attending Camp Fish Tales and it has greatly enriched his life. We also live near our daughter,  Allison,  son-in-law, Ted and 2 grandsons,  Evan and Dean. During the recent pandemic, when the title of  'Teacher' was added to my 'Grandma' role, we were able to access the 'Sunshine Adventure Camp ' program at Camp Fish Tales, which provided social and physical opportunities in a natural environment to supplement learning for elementary children during this unusual time. I am proud to be part of the Camp Fish Tales team which provides a fun, safe, nurturing and educational camping experience for adults with special needs and works toward addressing the needs of the community.
Kristin Riddle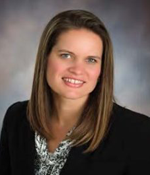 Kristin Riddle grew up in Lisbon, Iowa and received her Bachelor of Architecture degree from Iowa State University in 2000 – Go Cyclones! She and her husband moved to Midland 17 years ago and have three daughters. Kristin is the Design Manager at Three Rivers Corporation in Midland. Along with being a registered architect, she is also a LEED Accredited Professional through the US Green Building Council where she encourages "green" design.
Kristin is a member of Midland Young Professionals, Leadership Midland Alumni Association, and Architect Rep for the West Main Street Historical Commission in Midland. She also serves as a mentor to high school and college students in the field of architecture. In addition, she and her family are active in the annual holiday Midland County Salvation Army Adopt-a-Family program. Kristin joined the Camp Fish Tales board in 2017.
Adam Salgat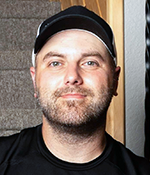 I love to tell stories. I love to share experiences and connect with others. My work, no matter the avenue, gives me the opportunity to make people feel. I get to make them laugh, cry or simply put a smile on their face.
I've been creating video and other digital media content for over 15 years and much of that work has been for a non-profit. This is where I've developed such a strong sense of community.
Push Productions, my business's name, symbolizes a personal philosophy I've been developing since my early 20's. Coming to terms with my diagnosis of a genetic degenerative muscle disease, I started wiping the word 'push' into the foggy bathroom mirror as a reminder to never give up, to always 'PUSH' forward.
I'm a blessed husband and father of two girls – "I'm just trying to be a better version of me for you." -Relient K.