Camp Fish Tales

Camp Fish Tales is a year-round independent non-profit camp, conference and retreat center. This barrier-free camp, for people of all ages and all disabilities, is located 67 acres s at the corner of Erickson and Old State Rd. between Linwood and Pinconning, just north of the Great Lakes Bay Region.
Mission Statement
Camp Fish Tales provides a unique and exciting outdoor learning experience where individuals with special needs interact and develop skills that enhance their health, abilities, independence, and quality of life.
Camp Goals
The goal of Camp Fish Tales is to promote an atmosphere for individuals with disabilities to meet and make new friends while participating in group growth activities.
Camp Fish Tales provides campers with the opportunity to be away from home for an extended period of time, thus allowing respite for caregivers.
Campers become aware of the needs of others within their units. Campers are encouraged to participate in as many activities as possible.
How Camp Fish Tales Got Started
In 1993 Camp Fish Tales opened a one-week, overnight, camp at Saginaw Valley State University.  It was a good start, but parents and volunteers had a dream in which one day their children and friends would enjoy a true camping experience. A camping experience which would include healthy, fun activities outdoors…the chance to meet new friends and develop social skills in a completely new and safe environment…the "confidence-building" experience of being away from home.  Hundreds of volunteers pitched in.
Finally, in 1996, Camp Fish Tales opened near Pinconning in mid-Michigan. This barrier-free, wheelchair accessible camp, located on 67 ½ acres, is a dream come true for campers and their loved ones. 
Mission Moments at Camp Fish Tales
The Story of Camp Fish Tales 1989-1999
There are three large cabins for housing campers and attending staff. Camp also includes a lodge, medical building, covered chapel, sensory cabin, several pavilions, archery and paint ball ranges, playing fields, a paved game area, a rock climbing wall, and a nearly four-acre pond with a newly-renovated.
CABINS
The Salmon & Bluegill Cabins - Each cabin is 18 capacity, air-conditioned and heated for winter. They both have handicap-accessible restrooms/showers.
Rainbow Cabin - Capacity of 24 with heat and air conditioning. Handicap Accessible showers/restrooms.
Mini-Cabins (3) - Each cabin houses 2 people. Two of the three mini-cabins have a restroom.
Sunshine Lodge - The lodge includes a full-service commercial kitchen, a large dining area that doubles as a fellowship room, a large game room, and an activity room. The capacity for the main lodge is 250.
Medical Building - The camp health lodge is a facility with 2 separate rooms, a handicap-accessible bathroom with a shower, and a nursing office.
Covered Chapel - An open-air chapel nestled in the woods with wooden benches and an accessible stage.
Sensory Cabin - The Sensory Cabin is a therapeutic space designed to promote physical change through special lighting, music, and objects.
Lion's Pavilion - Covered picnic area with picnic tables adjacent to the kitchen.
Outdoor Recreation Areas - The camp has a 5,000 foot paved and wheelchair accessible nature trail which leads to an outdoor amphitheater (a multi-tiered campfire area). Waterfront access includes: swimming/beach area,  fishing deck, pontoon, kayaks, and paddleboats. 
Camp Fish Tales is always looking for responsible,
caring and Camp enthusiastic individuals to join our team!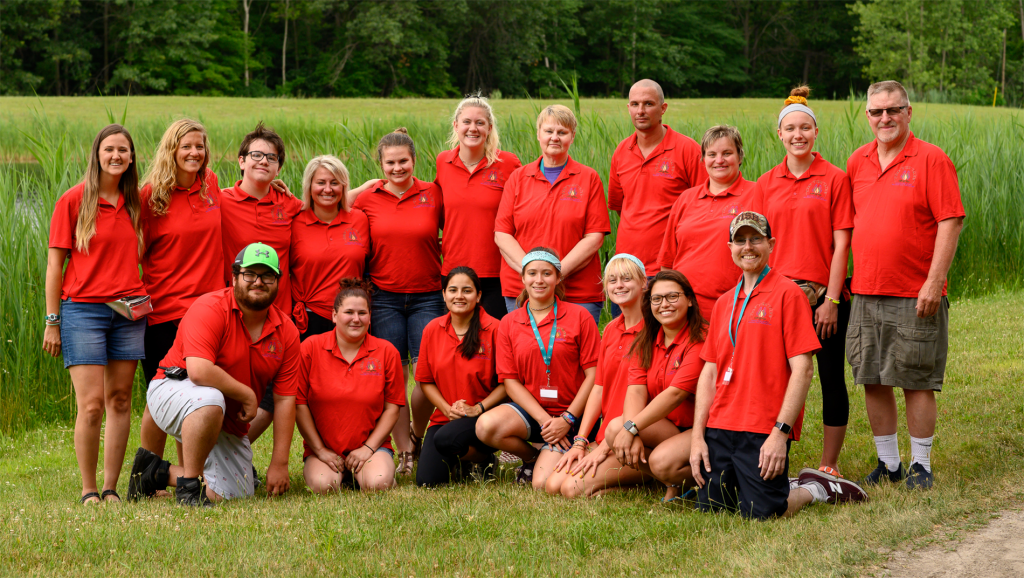 *ALL applicants must be able to pass fingerprinting/background check, DHS and Recipient Rights Clearances, and not be a Sex offender.
CFT-Employment-Application
You can fill out the application at the link above or send your resume to director@campfishtales.org.
---
Camp Fish Tales is seeking Counselors for the Summer of 2023. June 4th-August 18th.
Camp Fish Tales is looking for responsible, caring and enthusiastic individuals to join our Summer 2023 Camp team (June 4th-August 18th)! Camp Counselors (18 and older), will be working with campers (adults and children) with special needs to help them experience a safe, growing, and fun outdoor camp experience. We hold 10 week-long sessions with weeks of 7-23-23 off. Campers participate in rock wall climbing, archery, boating, fishing, talents shows, a weekly dance, and biker night!
Camp counselors stay at camp during the week, have free room and board, amazing meals, and their weekends off. They also receive training certificates in first aid/CPR. Training will be from May 30th - June 2nd.  This translates into all professions, looks amazing on a resume all while making a huge difference in the lives of children and adults with disabilities.