Did You Know?
The camp facilities are also available for rent. The accommodations are ideal for weddings, graduations, showers, meetings, seminars, retreats, school classes and more.
RENT the WHOLE camp or just the PARTS you NEED!
Our amenities include:
Main lodge: Capacity 240
Sleeping cabins (3): Capacity 60
2.5 acre pond: fishing, beach area, boating
Outdoor rock climbing wall
Archery/Nerf gun range
Golf Carts
Full-service commercial kitchen
Chapel
Outdoor pavilions (2) & fire pits (2)
The 67-1/2 acre facility is available for rent from September 1 through the end of May. The camp is an ideal setting for adults and youth enjoying retreats, family reunions, bridal and wedding showers, special events, meetings and all other types of gatherings.
For more information or if you would like to lease space at camp for an afternoon, weekend or week, please contact the camp office at 989-879-5199. By email, please contact: info@campfishtales.org.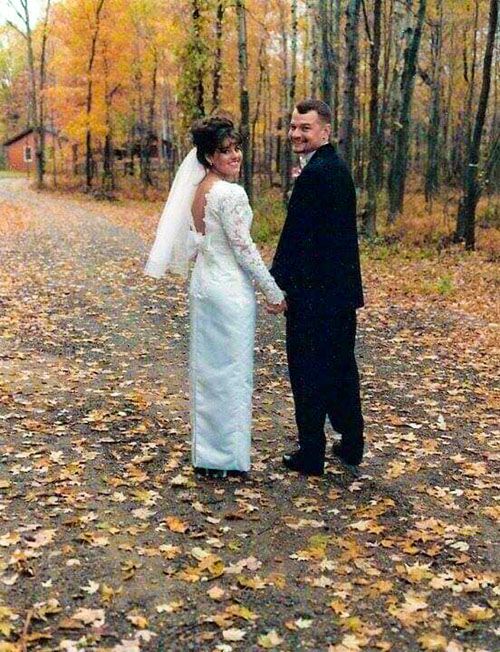 Sunshine Lodge can hold up to 250 guests and features wood high ceilings, a fireplace, tall windows with a vibrant forest backdrop, and heat/air-conditioning. For your ceremony, we have an outdoor chapel on-site with colorful stain glass windows and wooden benches.  We have numerous natural settings for intimate vows and photo shoots.
Destination Wedding Packages
We would love to create a unique and fun weekend for you and your guests – add weekend overnights, meals, and activities to make a destination camp experience to remember.  We'll provide the staffing and schedule while you enjoy all that the woods and waters have to offer.
Booking
A signed contract and non-refundable deposit are required to reserve a date.  Dates are considered open until a deposit is made.  For more information on our contract and cancellation policies please contact us directly.
Customize Your Program
We will work with you to design a schedule to meet your goals for your visit. Are you looking to focus on nature and the environment?  Teambuilding?  Recreation?  A little bit of everything? We can build a program unique to your needs.
Activities
Your students can ride the zip line, fish, swim, and canoe on Frog Pond. The classes range from waterfront activities, recreation, arts, large group games, outdoor skills, studying animals and birds, and forest ecology.
Sample Schedule
Many activities vary in their suggested time. We will help build a schedule that meets all of your goals. A typical schedule has 2-3 activity periods before lunch, 2-3 activity periods after lunch, and one evening program after dinner. Working with when you plan to arrive and how long your stay is, we will cater to the needs and goals of your group.
Pricing*
* Contact Camp
A Place to Relax and Refresh
Utilize the natural surroundings of our 67 acres with a picnic lunch on our patio or a hike on many of our groomed trails. Enjoy a day of icebreakers and teamwork activities or treat your guests to a relaxing banquet in front of our fireplace.  Plan your own schedule or let us fill your day with fun and productive activities – we can help you customize the day to fit your needs.  All of our facilities feature Wi-Fi and AV capabilities.
Rustic Setting, Modern Amenities
Sunshine Lodge features a recreation room, one large meeting room, which provides plenty of room to spread out and generate creativity and the grand room. Depending on seating arrangements, our Sunshine Lodge can accommodate up to 250 people. This facility also features three community dormitories for overnight retreats and can accommodate up to 60 guests.
Camp Fish Tales Catering provides meals, hors d'oeuvres, beverages, and more for all-day or weekend retreats.  We can also create custom menus for your retreat that will fit your budget.